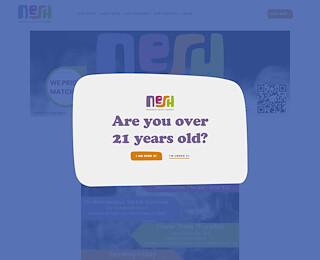 Buy Massachusetts Cannabis from NESH
Northeast Select Harvest, commonly referred to as NESH, is your destination for premium Massachusetts Cannabis. But why should you choose locally grown cannabis, and why should NESH be your preferred choice? Let's delve into these questions and shed light on the multiple benefits you'll enjoy.
Why Opt for Locally Grown Cannabis?
Choosing locally grown cannabis isn't just about supporting local businesses; it's about guaranteeing the quality of the products you consume. Locally sourced cannabis ensures that you're getting the freshest product. Fresh cannabis preserves the potency of cannabinoids, ensuring the effects are consistent and reliable.
What Does NESH Offer?
At NESH, we carry a vast selection of Massachusetts cannabis products, from River Run to Morning Dew. Each product is chosen with our customers in mind, ensuring we stock products that reflect the best that Massachusetts has to offer. You'll find an array of options, including flowers, pre-rolls, vaporizers, edibles, beverages, concentrates, and tinctures.
Why is NESH's Quality Unmatched?
NESH's commitment to quality sets us apart. Our cannabis products are sourced from local producers who maintain the highest standards of cultivation. This ensures that when you buy from us, you're investing in top-tier, locally grown cannabis. Our commitment to quality is unwavering, from the selection of strains to the final product you purchase.
How Does NESH Keep Prices Competitive?
At NESH, we understand the importance of accessibility and affordability. Our close partnerships with local producers allow us to provide high-quality Massachusetts cannabis products at competitive prices. We believe that everyone should have access to the finest cannabis without breaking the bank.
Why is NESH a Part of the Local Cannabis Community?
NESH isn't just a dispensary; it's a community hub. We're committed to fostering a strong local cannabis community, featuring art installations, community partnerships, and more. By choosing NESH, you're not only getting the best Massachusetts cannabis but also contributing to the growth of the local cannabis community.
What Makes NESH Customer Service Exceptional?
Our team at NESH isn't just knowledgeable about cannabis; we're enthusiasts who want to share our passion with our customers. We're here to answer your questions, guide you through our product selection, and ensure you have the best shopping experience. Whether you're a seasoned consumer or new to the world of cannabis, we're here to help.
Why Should You Choose NESH?
The answer is simple: NESH provides the best Massachusetts cannabis with a commitment to quality, affordability, and community. Our selection of products, our dedication to our customers, and our active role in the local community make us the ideal choice for your cannabis needs.
To Sum Up
– Locally grown cannabis ensures freshness and potency.
– NESH carries a wide variety of Massachusetts cannabis products to suit all preferences.
– We maintain strict quality control for all our products, guaranteeing top-tier cannabis.
– NESH offers competitive prices, ensuring accessibility and affordability.
– We foster a strong local cannabis community through various initiatives.
– Our team provides excellent customer service, enhancing your shopping experience.
Buying Massachusetts cannabis from NESH guarantees not just high-quality products, but a shopping experience that supports the local community. So, whether you're a seasoned cannabis enthusiast or a curious newcomer, make NESH your preferred destination for the best of Massachusetts cannabis.
NESH
(617) 882-0710
378 Highland Ave
Somerville MA 02144 US